The United Way Pacesetters have been busy rolling out the red carpet throughout August to help support United Way funded agencies in the 2022 Annual Campaign.
"Thanks to our Pacesetters, the Campaign is going very well! Their success puts the Campaign in full production with our general campaign this month, followed by the industries in October. We want to keep those cameras rolling – and the dollars rolling in – to make this year's Campaign a blockbuster!" stated Jeni Royalty, Campaign Co-Chair.
Each year, a select group of high-performance businesses take on the challenge to jump start the United Way annual campaign by becoming Pacesetters. These organizations set the standard for leadership and community support by locking in their increased campaign donations during the month of August. The success and excitement generated by the activities of the Pacesetters will help inspire other organizations to follow their lead when running their own campaigns.
The ten Pacesetter sponsors included Bauer Family Resources, Community Schools of Frankfort, Clinton Central School Corporation, Clinton Prairie School Corporation, City of Frankfort Employees, Clinton County Government Employees, Donaldson, The Farmers Bank, Kaspar Media and NHK.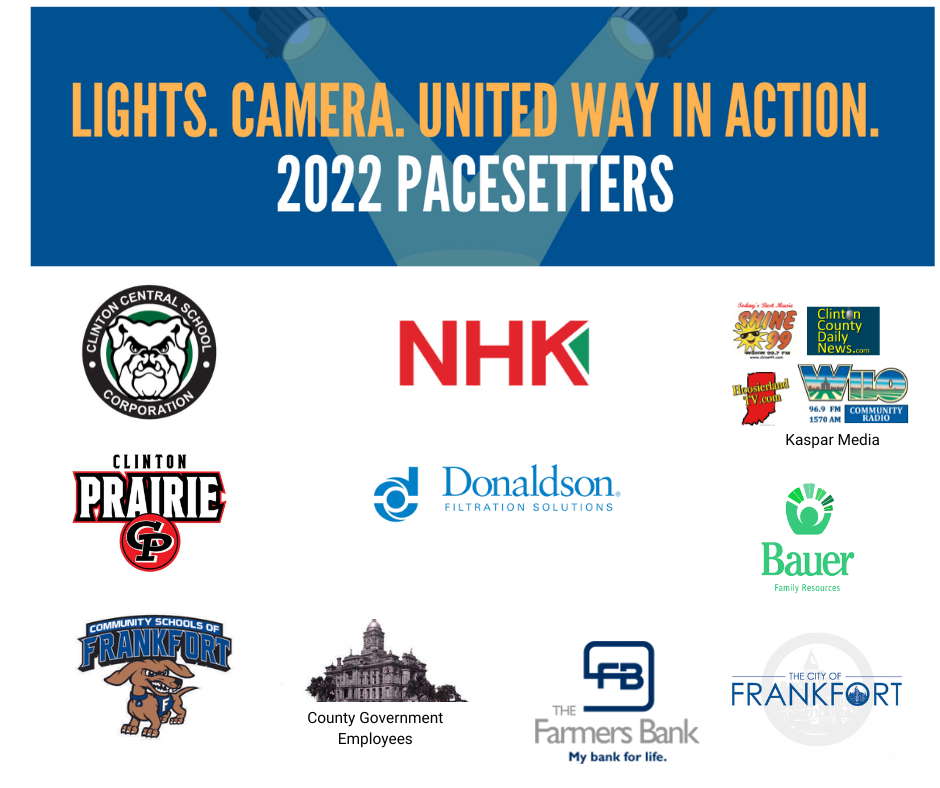 The Farmers Bank had an extraordinary campaign this year.  When asked what made their campaign so successful, they stated "we had FUN with it!" They offered a Balloon Pop, on-line Silent Auction, creative coin drives, and they dressed up as movie stars and visited each Farmer's Bank branches in Clinton County.
The City of Frankfort also had a great campaign.  They encouraged "Fair-Share Giving" which is one hour of pay each month.  Their bake sale raised over $700 and they offered a friendly competition between all departments of the highest participation.  The competition was tough, but the Frankfort Police Department won with over $12,000, and they will receive a lunch with the Mayor Sheets.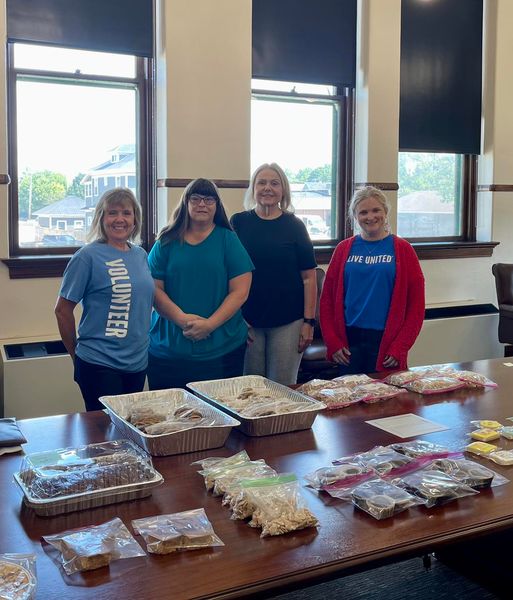 Four Pacesetters are still working on their campaigns, therefore more donation totals will be announced soon on United Way's social media pages and website.
Anita Stewart, Executive Director of United Way for Clinton County, stated, "We are extremely proud of our Pacesetters!  They are our community leaders who set the pace for what our annual campaign will be this year.  This year our Pacesetters have already provided 39% and still counting of our annual goal of $480,000."
Stewart explained, "Our Annual Campaign is so important because these funds are what supports our funded Not For Profit Agencies.  Our NFP Agencies depend on United Way to help them with the impact they are making in Clinton County.  United Way has 17 Not for Profit Agencies that support 19 Impact Areas in Clinton County.  We are so proud of our Agencies and the great work they do for our children, seniors, and families.  United Way can't do the work we do without our partners in the community!"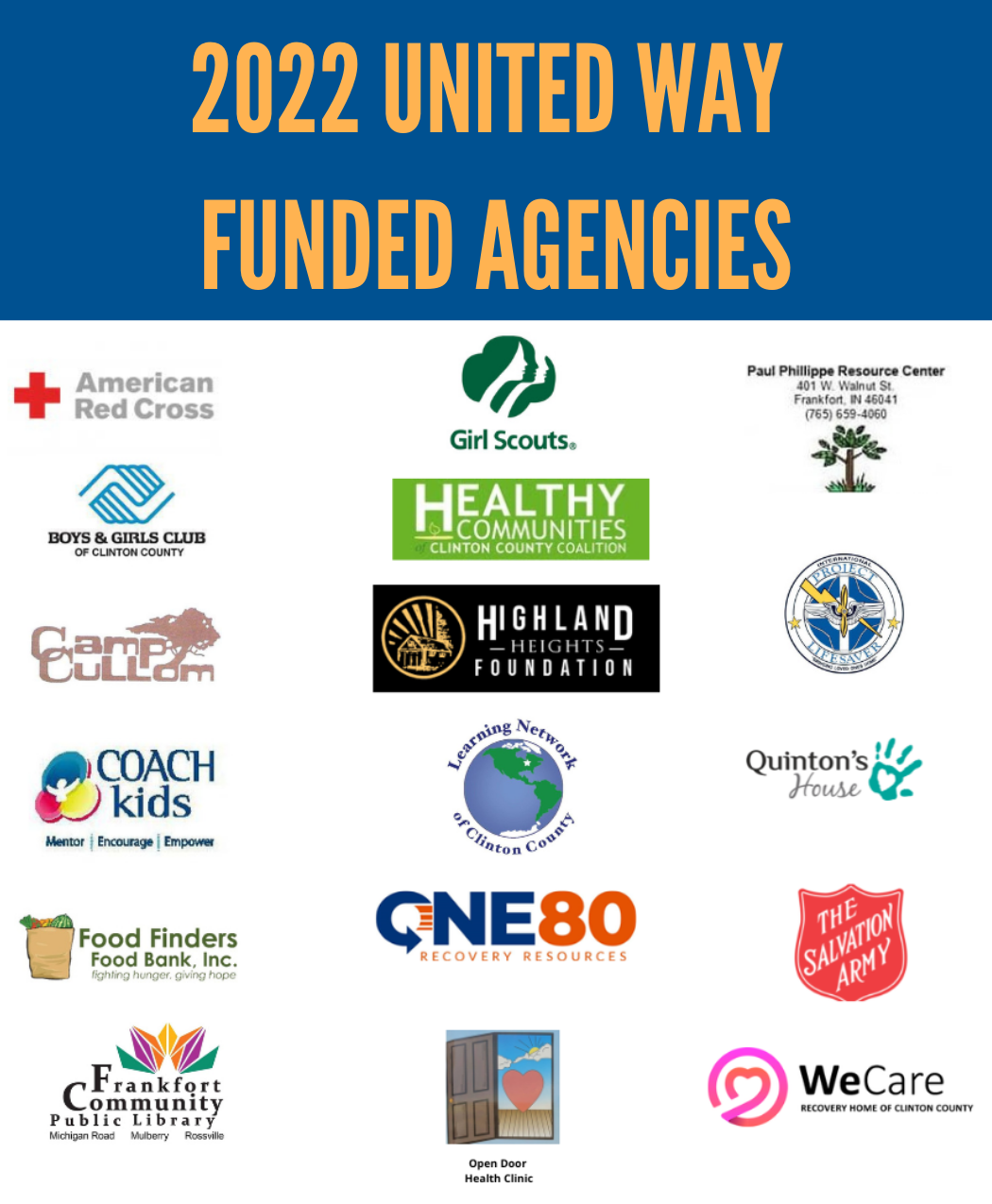 2022 Funded Programs include: American Red Cross, Boys & Girls Club, Camp Cullom, COACH Kids: Local Heroes, Frankfort Library: Dolly Parton Imagination Library & Family Literacy Program, Food Finders, Healthy Communities: Mental Health, Changes & Peer Recovery Program, Highland Heights Foundation, Learning Network ESL Driving Program, Local Girl Scouts & Fiesta Camp, One80 Recovery, Open Door Health Clinic, Paul Phillippe Resource Center, Project Lifesaver, Quinton's House, Salvation Army, and WeCare Recovery Home.
Beyond supporting nonprofits, United Way works to unite people and resources to build a stronger, healthier Clinton County additionally through their Impact Work.  Endeavors such as the Home for the Night homeless shelter, Pre-K funding, Mental Health training for the Police Department, Mental Health services for teens, and the 10,000 free meals served to children through the Summer Food Program are all examples of United Way for Clinton County stepping up, raising their hands, and solving problems in our community.
United Way is asking the community to take action by giving to their annual campaign.  Contributions can be made on our website HERE, mailing a check to 1234 Rossville Avenue, or calling the office to use a credit card.   United Way encourages everyone to follow their Facebook page for volunteer opportunities and upcoming Dine to Donate nights at local restaurants (see dates below), with the first one being next Wednesday, September 21st from 5-9pm at Angry Donkey.